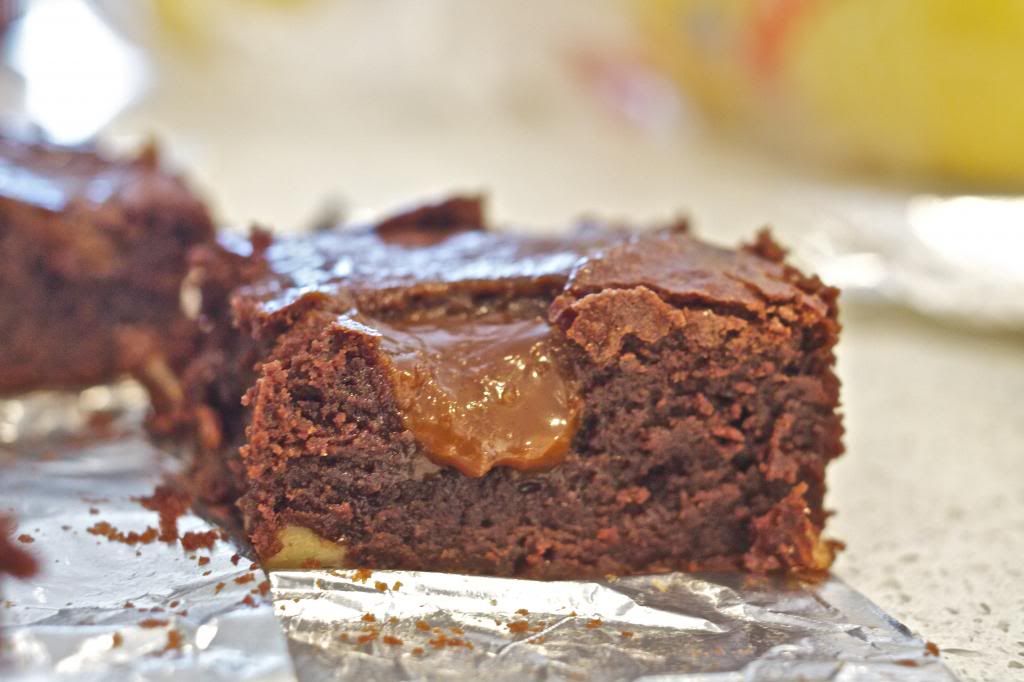 This is supposed to be my Valentines post. I had planned on photographing these beauties with some sort of red or pink background, or ribbon to drive that point home but I realized I don't have food props. I'm that lame blogger that likes to keep things authentic. If I'm not actually wrapping these brownies up in red tissue paper and giving them to somebody, I sure as heck won't make it look like I am (unless I have lots of extra time and vision). Still, I feel certain pressures as a food blogger such as getting recipes out before holidays since the whole point is to inspire ideas for these sorts of things. The truth is I usually suck at this. Call me crazy but I like to make valentines treats ON Valentines Day. This means I can't possibly get pictures and a post out in time for you to make it as well unless I save it for the next year. I do that sometimes. I have both a Christmas and Thanksgiving recipe that I made this year, which I won't share with you until next year when the time is right. This blog stuff can get complicated. However, it happens to be my step-dad's 50th birthday this week, and since my mom is coming over I thought he might like it if she brought him home some of these brownies.
Because, dude, who wouldn't want some of these brownies?
I knew I had to make this recipe asap because the hefty pockets of soft milk caramel folded throughout were calling to me and made it so I could not,
could not
, stop thinking about it. It was like it had some kind of hold over me.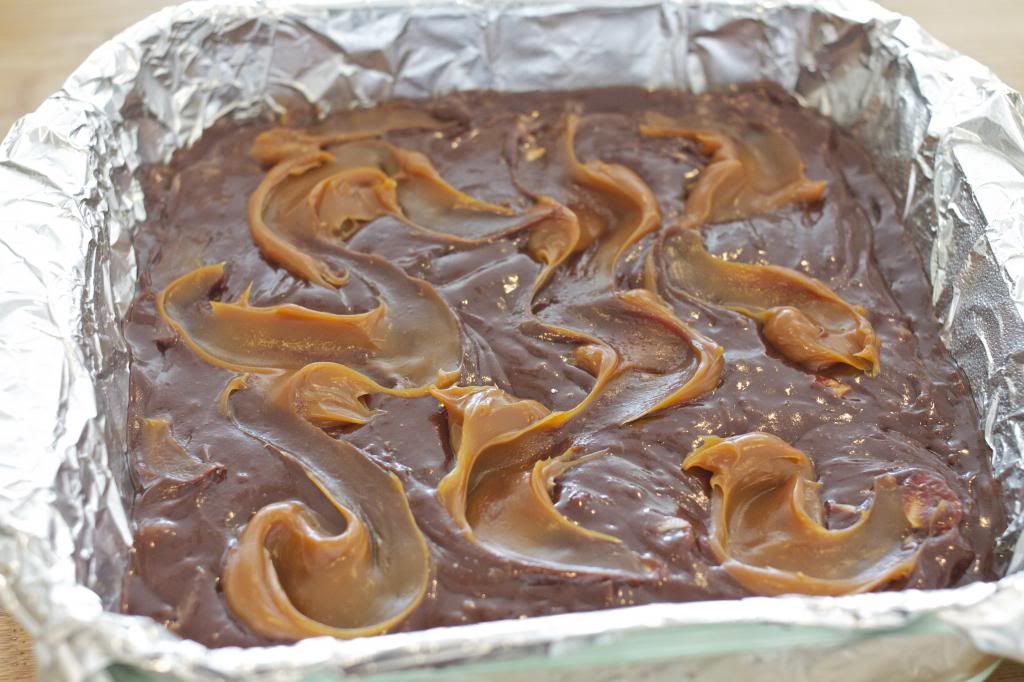 Can you blame me? These are gorgeous in their simplicity, are they not? Normally, I like my brownies topped with vanilla ice cream in sundae form or I'm not much interested. Dulce de leche brownies are apparently a game changer. You want these straight up. It would be a travesty to mask that caramel and chocolate with anything else. The thing that works so magically here are the differing textures. There's a deep chewiness to the brownies which clings to the warm caramel in a nice little hug. When you bite, some of the dulce de leche oozes out gently without getting too messy and ignites your taste buds. This is a hefty brownie. Fudgy, but with a good crumb. I can't see myself making a different brownie recipe ever again, with or without the dulce de leche because these are spot on. Next time, I'll load them with nuts. The fact that these are essentially saucepan brownies and can be made in one pot, without the use of a mixer makes them even better. What are you waiting for? Like, seriously.
What are your Valentine plans? My sweet Grandma and Grandpa are going to babysit the kids so that we can go out to dinner. Usually, I opt for reservations at my favorite restaurant, Cafe Diva, but this year I think we'll go to our own restaurant, Mambo Italiano. Our Sicilian chef has created the most beautiful menu with proscuitto and honey ricotta and handmade mushroom pasta and cream puffs with berries and oh, It's going to be fantastic.
Dulce De Leche Brownies
adapted from
David Lebovitz
makes 9 squares
8 tablespoons (115g) salted or unsalted butter, cut into pieces
6 ounces (170g) bittersweet or semisweet chocolate, finely chopped
1/4 cup (25g) unsweetened Dutch-process cocoa powder
3 large eggs
1 cup (200g) sugar
1 teaspoon vanilla extract
1 cup (140g) flour
optional: 1 cup (100 g) toasted pecans or walnuts, coarsely chopped
1 cup Dulce De Leche (or Cajeta)
Preheat the oven to 350 degrees (175 C).
Line a 8-inch (20 cm) square pan with a long sheet of aluminum foil that covers the bottom and reaches up the sides. If it doesn't reach all the way up and over all four sides, cross another sheet of foil over it, making a large cross with edges that overhang the sides. Grease the bottom and sides of the foil with a bit of butter or non-stick spray.
Melt the butter in a medium saucepan. Add the chocolate pieces and stir constantly over very low heat until the chocolate is melted. Remove from heat and whisk in the cocoa powder until smooth. Add in the eggs one at a time, then stir in the sugar, vanilla, then the flour. Mix in the nuts, if using.
Scrape half of the batter into the prepared pan. Here comes the fun part.
Drop one-third of the Dulce de Leche, evenly spaced, over the brownie batter, then drag a knife through to swirl it slightly (if you like big, melty pockets of caramel, don't swirl the bottom layer. Leave it in globs). Spread the remaining brownie batter over, then drop spoonfuls of the remaining Dulce de Leche in dollops over the top of the brownie batter. Use a knife to swirl the Dulce de Leche slightly.
Bake for 35 to 45 minutes. The brownies are done when the center feels just-slightly firm. You want the brownies to be underdone just a bit. It pays off after they cool. Remove from the oven and cool completely.
Storage: These brownies actually become better the second day, and will keep well for up to 3 days.