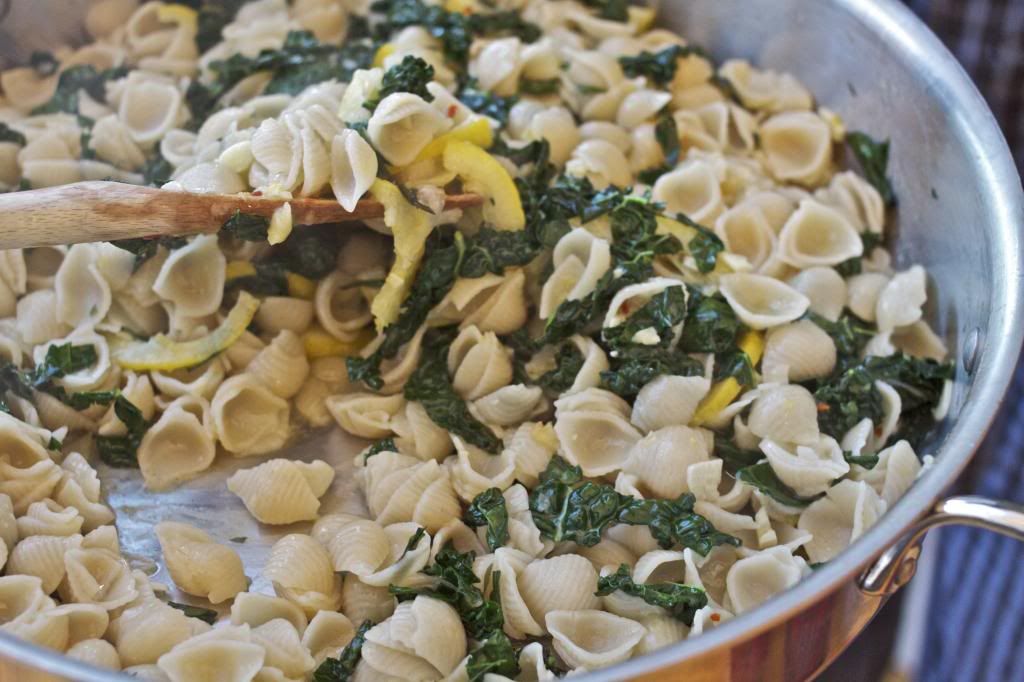 Kale. It's what's for dinner. Okay, so I fess up, I saw this recipe on Pinterest and swooned over it for a couple months until I decided it was time to make it. Although the original recipe sounded lovely, I knew I needed to add significantly more garlic, lemon, and salt, plus a little crushed red pepper flake in order for it to pass my taste test. I was right on the money. The amounts can be tweaked to fit your preferences but I found this recipe to be perfectly garlicky, without being overpowering (it takes more than you think it will), and very lemony. We like lemon in our house. I thought this was perfect for us because the brightness along with the silky olive oil and background garlic balanced the earthiness of the kale. If you are not overly thrilled by lemons, cut down on the juice by a 1/2 lemon, and don't add the lemon slices to infuse your oil. That should do it.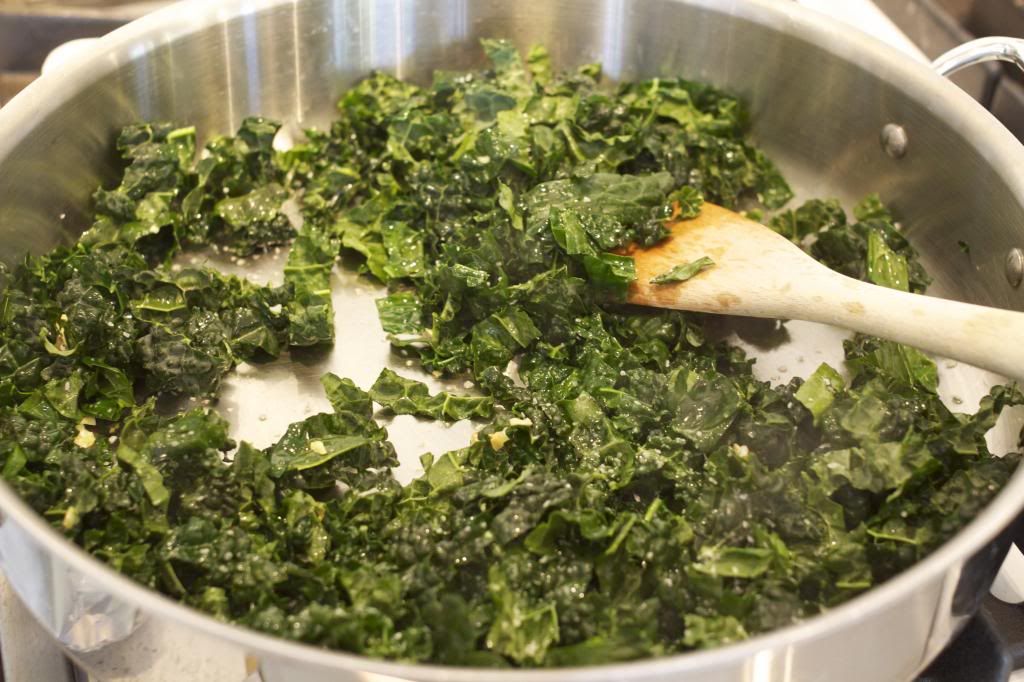 This girl gobbled her pasta down with great enthusiasm, although we did catch her picking out a few ribbons of kale and tossing them to the side. I think they made their way onto the floor where the dog ate them.
He lives for moments like that.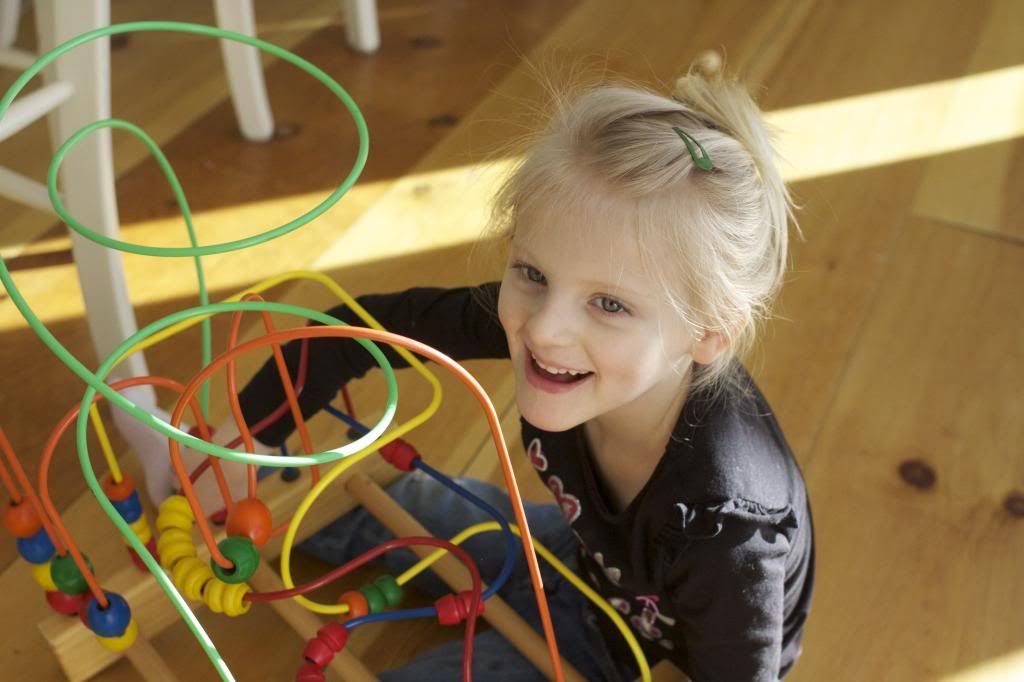 Right now, that very same girl is squealing at the TV in the background where the Price Is Right is on. What is it with that show? Kids love it. The bright colors, the commotion. Have you ever noticed that? I swear, next time the kids are driving you crazy, play an episode of Price Is Right and walk away. You don't even need to draw attention to it. The kids will just naturally flock to the TV and become entranced. It's so strange. When Jeremiah is home sick and it comes on he'll yell at me if I try and turn the channel. I had no idea the showcase showdown could be so entertaining.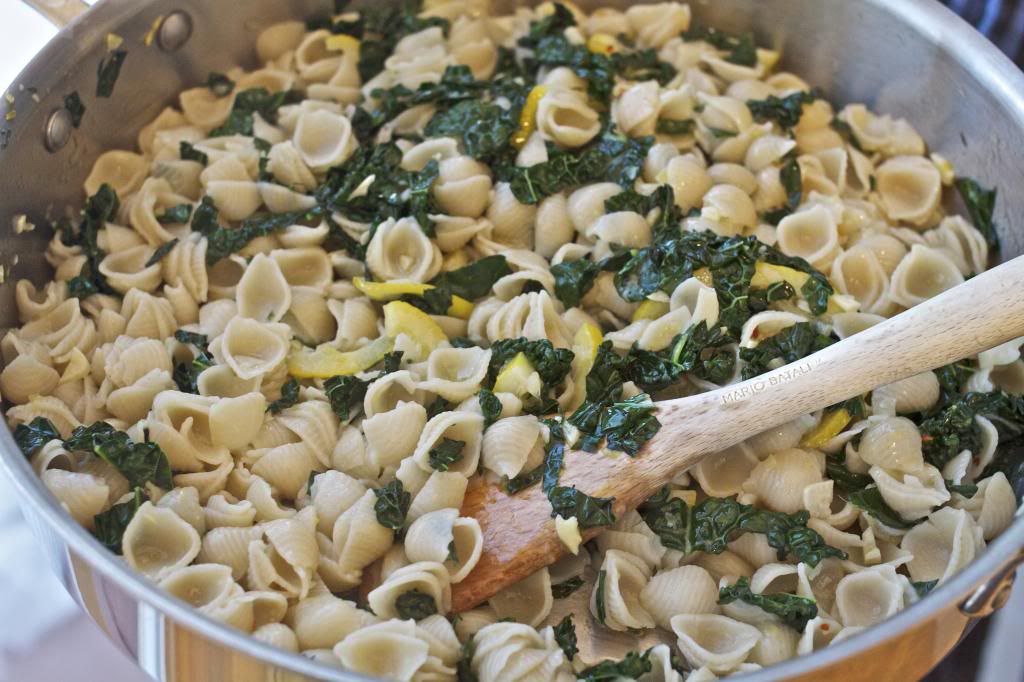 Easy Lemon, Garlic and Kale Pasta
adapted from The Cilantropist
serves 4-6
1 head dinosaur or black kale, thick stem removed and chopped into thin ribbons
1 lb. shell pasta
(we used brown rice pasta - Tinkyada brand, which is gluten free)
2 lemons
7 fat garlic cloves, chopped and divided
1/2 cup olive oil + 2 tablespoons
pinch red pepper flakes
1 1/2 teaspoons Kosher salt
Toasted pine nuts (optional)
Heat a large pot filled with water to a boil and cook pasta according to package directions.
Zest and juice one of the lemons in a bowl and set aside for later. Slice the remaining lemon in half and squeeze the juice out of one of the halves into the bowl of juice and zest. Slice the remaining half a lemon into thin slices and reserve.
In a large pan, heat 2 tablespoons of olive oil over medium heat. Add 2 of the chopped garlic cloves and saute for 1 minute. Add kale and saute until it wilts nicely, about 5 minutes and add 1/2 teaspoon of salt. Transfer wilted kale to another bowl (or sheet of foil, like I do) and set aside.
In the same pan used to cook the kale, heat 1/2 cup of olive oil over medium to medium-low heat, once warm, add the remaining 5 cloves of garlic, pinch of red pepper flakes, and lemons slices, and saute until garlic is cooked and oil is infused, about 3-5 minutes. Add in the lemon juice and zest and remaining teaspoon of Kosher salt. Continue to simmer everything together for 1 minute. Add the kale and pasta to the sauce and toss until combined. Top with toasted pine nuts and serve hot.