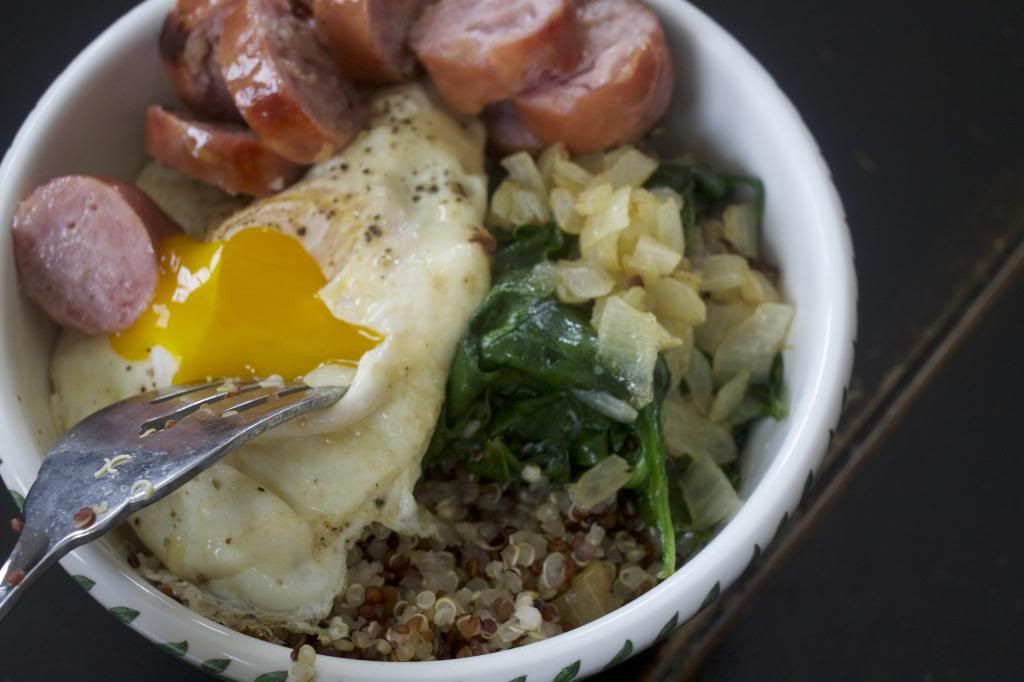 Do you know what's kept me from blogging for so long? Pinterest and Flickr and Facebook. Seriously. We switched from Safari to Chrome and I no longer have a "pin it" button on my computer. Never mind that it would take me all of five minutes to install another. I didn't. And then theres Flickr. I don't know how I feel about it. Thats where I upload all of my photos, but it takes forever and lately, they don't post on Pinterest as well. I'd switch to Photobucket but alas, my photos are not that great and Photobucket makes them larger than life. You'd see every blur and flaw. Then, when I use my app at the bottom of bloggers page to post to Facebook, no picture pops up like it used to. Most people follow my blog through FB so this is a problem indeed. None of these things have anything to do with the actual blogging, but it shouldn't take me so long to put a post together. Its getting a tad ridiculous, so I've been rebelling. So, there you have it. Rebellious Krysta refuses to post new content because there must be a better way. I guess I've calmed a bit because here I am posting and haven't figured it out as of yet.
I have been reading a lot in the absence of blogging though. It's Jan. 19th and I've finished two books this year. I ripped through both "Traveling Mercies" and "Bread & Wine", by Anne Lamott and Shauna Niequist, respectfully, and today I find myself a quarter through "Quiet: The Power of Introverts in a World That Can't Stop Talking" by Susan Cain. It's much more insightful and fascinating than it sounds. It's also not really
about introverts
, but rather how our culture came to shape and value different modes of being but are all unique and good. Its a smart read and I'm gobbling it up. Bread & Wine was awesome if you love rich, descriptive writing. It's pages are littered with sentences like:
"Our table had a whole fish roasted with wheels of lemon and swaths of herbs, carved tableside, and handmade lobster ravioli, the fresh lobster meat so sweet that it almost tasted like there was sugar in it. What moved me though--and what the restaurant is famous for beyond the lemon tree canopy--were the antipasti and sweet buffets: two huge wood tables piled heavily with platters wedged in like puzzle pieces. One table held cheeses and pastas and grilled, marinated vegetables; the other, plates of every imaginable fruit, cake, and tart. At the center of that lovely table, a bowl of fat blackberries, almost as big as plums, and a bowl of whipped cream, decadent and simple at once. I can still taste my glass of limoncello they served at the end of the meal, and I can still recall the hint of coolness in the air as we drove back down the winding roads to the marina, feeling like the world was so beautiful I almost couldn't stand it, so thankful for those trees and those lanterns and those huge round tables and that bowl of blackberries."
Positively dreamy if you ask me. Its a book about food with recipes, but its heavily laced with Christianity and faithful insights. I found it wise and delightful, an indulgent treat for my senses and imagination.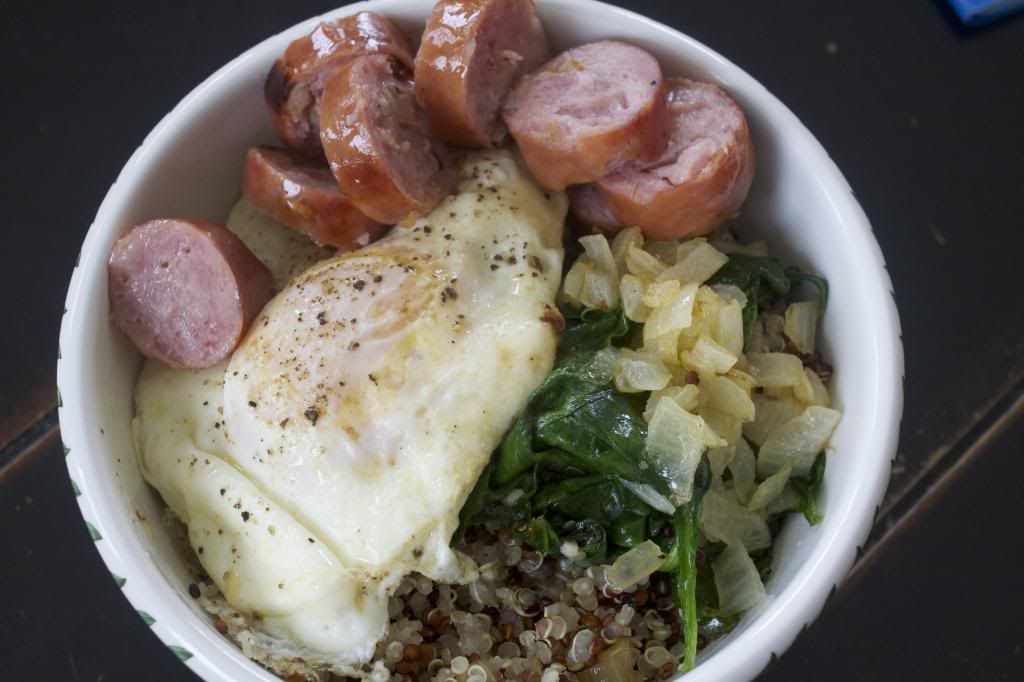 I found the recipe for this unassuming quinoa breakfast bowl in Bread & Wine's pages. I was drawn to it because I'd never though of quinoa as a breakfast food or paired it with sweet sausages, like a chicken apple gouda. Then the thought of the sautéed onions and that perfectly fat fried egg sitting on top slayed me. Just knowing that golden yolk would drip down and mingle with the quinoa and spread its love all over that bowl made my mouth water. I ran to the kitchen. It was heaven. I'd eat this for breakfast each and every day. And then again for lunch and dinner. I did add some wilted spinach, something the recipe didn't originally include but I wanted something fresh. Some sautéed red bell peppers would have been good too.
Shauna says this isn't really a recipe, but more a glimpse into her kitchen. The recipe is written to serve 4, although when she makes it for only herself, she divides the quinoa, sausages and onion into separate bowls and covers. Then, you have breakfast waiting for you for the next 3 days--all you have to do is warm the bowl and fry an egg.
Quinoa, Sausage and Egg Breakfast Bowl
adapted from Bread & Wine, by Shauna Niequist
serves 4
1 tablespoon olive oil
1 large or 2 small onions
4 links chicken apple sausage (or chicken apple gouda)
2 cups quinoa
4 cups water
4 eggs
Salt and Pepper to taste
Slice and soften and onion in olive oil in a pan over medium-low heat. While that's cooking, slice the sausage and add it to the same pan. Pour the quinoa and water into a small pot. Bring it to a boil, and then turn the heat down to a simmer for about 15 minutes. Fluff with a fork, and let cool for 5 minutes.
Scoop quinoa into 4 bowls and then stir a scoop of onions and sausage slices into each one.
In the onion pan, fry the eggs to over easy, about two minutes over medium heat, and then slide one egg on top of the quinoa mixture in each bowl. Add salt and freshly ground pepper.
If you'd rather scramble the eggs, beat them and then pour them into the onion pan and begin to cook them over low heat, running a wooden spoon through them as they thicken. Scoop loosely scrambled eggs into each bowl and top with a small handful of goat cheese. Add a sprinkle of salt and fresh ground pepper.