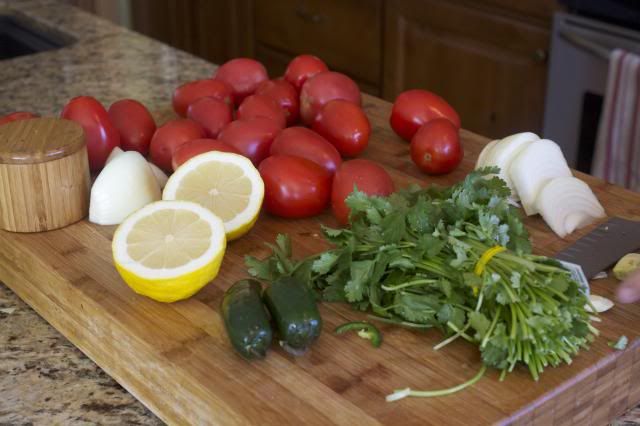 My mother is the queen of salsa. Every time she makes a batch its a little bit different because she forever tweaks the recipe here or there. She's an intuitive cook and not a recipe follower. Sometimes this is infuriating. For example, I swear she used to use lime for tomato salsa (lime for salsa, lemon for guacamole) but she tells me no, it's always been lemon. I'm not so sure. I think either would work well here.
The baby helped on our big salsa making day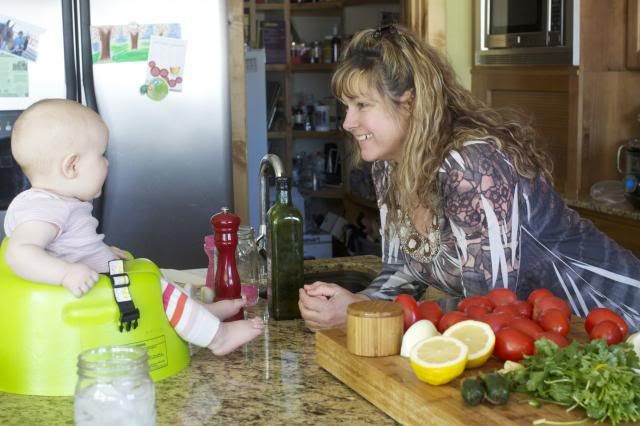 She's roasted tomatoes and added a touch of cinnamon and spicy reconstituted smokey peppers and a squeeze of orange and dash of clove for a salsa made specifically for pairing with easter ham. That was delicious. She sometimes adds more or less of a certain ingredient, but one precaution she always takes is to sample the jalapeno alone (she straight up cuts a piece off and pops it into her mouth) to see how hot they are. Jalapenos are really unpredictable. Some are not spicy at all, like a bell pepper and some will really burn. If a pepper is particularly hot, she might not include the white parts or seeds in the salsa. My mom likes things hot though, so this doesn't usually happen. Also, sometimes she'll use serrano pepper instead of jalapeno. Play around and have fun.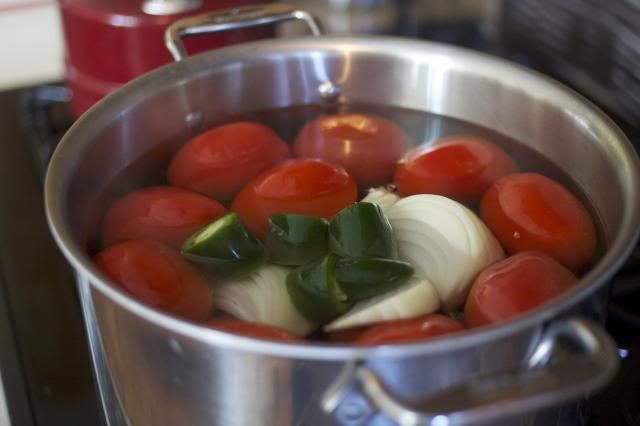 I started my "training" for my 5k this spring. Woo-hoo! The weather is warming up and the clouds are giving way to sun. Salsa, it seems will start to be mandatory in these parts really soon.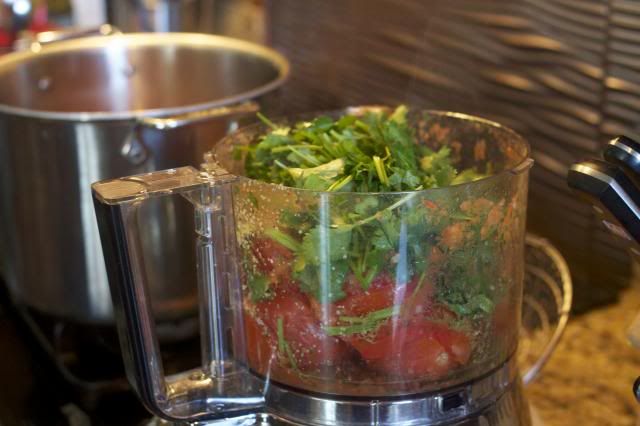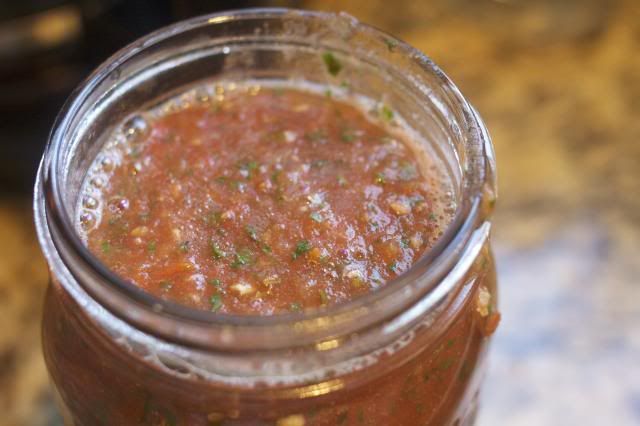 Moms Restaurant Style Salsa
makes about 4 cups
10 roma tomatoes
1/2 small yellow onion, sliced (or 1/4 of a larger onion)
1/2- 1 jalapeno, chopped in big chunks (test a piece plain to see how hot your are before adding)
1 fat garlic clove
1/2 head of cilantro
1/4 lemon
1 teaspoon oregano
2 teaspoons sea salt
1/2 teaspoon cumin
Boil whole tomatoes, onion, and chopped jalapenos and simmer until tomatoes skin starts to burst, about 5 minutes. Transfer it all into a food processor and add 1/2 head of cilantro, garlic, juice from 1/4 a lemon, and spices. Pulse until blended and taste. Salsas final flavor will very depending on your ingredients so add more salt of jalapeno or lemon if desired.